Boss DD-3 Ver. 1 Japan BRUGT
Boss DD-3 Ver. 1 Japan BRUGT

Beskrivelse
Boss DD-3 Ver. 1 Japan BRUGT
Pedalen virker perfekt, men bærer tydelig præg af bug.
Ingen label i bunden.
DD-3 version 1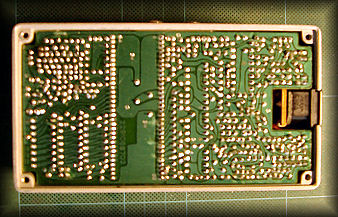 So the DD-3 was born. The second output jack is now labeled "direct out" instead of the "stereo out", but according to the user manuals, it works the same as before (2nd output is dry only, switching the main output to delay only). It had the "external" type of adapter jack (the one that slides into a cutout in the box, rather than just poke through a square "hole" as they do these days), and a blue label marked "Made in Japan". The mode selector was mounted separately from the other three pots (which were soldered together to a small circuit board). This means that if you find a DD-3 that has a wobbly mode selector while the other pots are screwed down tight, it is definitely a version 1 pedal. If you open it up, you will find a huge delay chip that covers the entire width of the circuit board, along with a maze of wires connecting the pots and various points on the pcb. It also has the same foil shield found in the "2".
Quick description – DD-3 version 1
Blue "Made in Japan" label (earliest pedals has labels without serial numbers, with a serial # paper sticker underneath the battery instead)
"External" adapter jack (as on the left pedal in the pic)
Mode selector mounted separately from the other pots
Large delay chip with foil shield
Som altid tager vi i mod seriøse bud eller bytter gerne, hvis du har noget spændende...evt. også grej, der er defekt eller med skavanker. Læs lidt om (vores mening) http://lydmuren.dk/brugt-kob